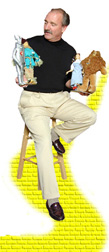 "Wisdom of the Ages From the Land of Oz and beyond"
The presentation "Wisdom of the Ages from the Land of Oz", uses metaphors and archetypes from the story of The Wizard of Oz, indigenous teaching stories, and poetry, along with personal experiences to point out important aspects about life and living - in the workplace, at home and in the community. It is at once entertaining, informative and inspiring.

There are many stories of the "hero's journey" created by a great diversity of cultures and dating back to the stone age. The story of the Wizard of Oz is the one great American myth, and it is the one parable in which every characterization of the feminine is completely self-sufficient, self-confident, and self-actualizing.

There are many stories of the heroine's journey (Snow White, Cinderella, and all the great mythologies, etc) but only in the Wizard of Oz does the heroine ultimately discover that she is naturally empowered with everything she needs to stand on her own. No need for a Prince or a Wizard or a King to rescue her or to make her complete.

The heroine, Dorothy Gail, is a natural leader, representing vision and calm perseverance. The Wicked Witch represents fear and adversity (obstacles to success), Glinda (the good witch) is hope and triumph, the Straw Man is wisdom, the Tin Man - compassion, the Lion - courage, Toto is intuition, and finally the Wizard is the personification of ego, first as a demanding, domineering, and self serving ego, and later as a gentle and kindly ego which serves self and the community.
What you can expect to gain from "Wisdom of the Ages From the Land of Oz and beyond" with Rick Nichols:
Increased self-appreciation and self-confidence
The courage to dream bigger dreams
A new point of view on who you are, what you've got and what you can accomplish
How to enlist the positive and negative polarities of life to move you forward
Greater capacity for compassion, tolerance and acceptance of others
Keys to opening and developing your intuition
A new prospective on your ego and its impact on your life